Routine Costumes: Decisions & Strategies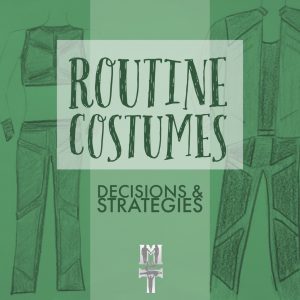 It's US Open season! This means many competitors are hard at work preparing their choreography, and are turning their attention (if they haven't already) to planning their costumes.
There are dozens of factors to consider when choosing/creating a costume, it's easy to miss some. But the reality is that little details make a BIG difference. Some factors are obvious, but you never know what's in your blindspot. So here's a list to help you cover all your bases.
I am refraining from offering my opinion here. These tips are simply facts and strategies I have accumulated after years of designing my own costumes and others', learning costume faux-pas the hard way, and a lifetime of studying fashion for fun. I'm using our own images as examples, but this doesn't mean we have never made bad decisions!
Of course there are exceptions to every rule, and I certainly do not expect all dancers to fit a mold or be carbon copies of me or any other Pro. There is lots of room for a wide variety of self-expression in routine costumes, but it's good to know the boundaries you can play within safely, and how to execute your vision in fashion without distracting from your actual dancing.
Ultimately, if you feel good, secure, and confident in your costume, you're going to be ok. The following wisdom can help direct your efforts to finding that feeling more easily and quickly.
Off the rack
It's possible to purchase something off the rack to use as a routine costume. It might look a little too much like a Strictly outfit unless you add some bling. When you go shopping, bring your partner's costume with you for colour matching. Be sure to dance in the fitting room to test out all your required movements you need the garment to withstand. Don't forget squats and overhead arm movements. If you are creative, try to envision modifications such as cut-outs or add-ons: you don't have to commit to the garment as-is.
Fun story: Our She Talks to Angels routine was choreographed spontaneously in 7 days while we were in New Zealand, and since we flew straight to Swing Diego, there was no choice but to find a costume at the mall. I ended up getting creative and taking a faux-feather skirt, titling it sideways, and stitching myself an arm hole. Et voila! A top-placing Showcase costume for $20. Added a bit of bling when I got home, but kept that costume the whole year.
Body type & lines
The rules of fashion apply here: vertical lines have a slimming effect, horizontal lines widen, etc. When designing a costume for a student or friend, I always start by asking which body parts they are proud of and which they would like to hide:
Not happy with your tummy? Wear a vest, a corset, or choose draped fabric to cover it.
Got rounded shoulders? Don't choose halter top necklines that will accentuate them.
Got scrawny arms? Choose long or 3/4 sleeves.
Long torso and short legs? Use the same colour for top and bottom, or avoid showing your waistband if the top and bottom are different colours, and avoid low-cut pants entirely. It's all about playing with proportions and lines.
Also consider if your choreography has particular positions you would like to highlight. For example, in our Don't Stop Me Now routine, my costume's black side paneling served to not only give my short frame length, but give my signature knee pirouette a cool corkscrew effect.
Character of WCS
Remember WCS is a constantly evolving dance, therefore your fashion should be relatively up-to-date. Pay attention to what is out of style both on and off the floor: wide-leg or flared pants are outdated at the moment, as are bell sleeves, puff sleeves, and all-over sparkle. Also remember to "dress the part": the character of WCS is modern/cool/sexy/classy. Be careful not to venture too far into the fashion realm of a different dance style, like Salsa, Ballroom, or Contemporary. Take a cue from the trends and patterns of fashion you see in the NASDE and Masters divisions.
Match the music
Determine the mood, spirit, story of your song. If it's romantic, aim for soft and drapey costume rather than tight and edgy. If it's fun and funky, avoid those drapey fabrics because they will appear to conflict with the song. If it's a sad story, don't choose a neon sporty design. Maybe let a lyric inspire you: in our students' Rising Star routine, the lyrics repeatedly refer to "stars aligning", so I designed a costume with rhinestones representing a starry night sky then choreographed a moment where their "constellations" lined up together.
Just because WCS can be danced to multiple decades of music, doesn't mean you have to jump 100% into the fashion of the decade your song is from. For our Gatsby routine, we worked hard to find the right balance between era-appropriate art deco (our tops and shoes), and modern fashion trends (my leather leggings and peplum skirt). It works to include an homage or a hint at the theme, but you don't want it to look like a Halloween costume. Same thing with characterization: if your song has a military feel, don't wear a complete head to toe military uniform: instead, include features that are military-inspired, but still danceable and appropriate for the current year's fashion trends.
Be memorable…in a good way
Think: how will the judges distinguish you from your competitors? How do you want your fans to refer to your routine in their memory? Your costume should have an identity. Consider creating a colour story: "Pink Lace", "Gatsby", "Blue Plaid", "Futuristic Metallic", "White with red swirls". If you have too few or too weak distiguishable features, it will be harder for your routine to stand out. If you have too many elements competing with each other, it will look messy or confused.
Colours to avoid
Don't pick a colour because you like it; pick it because you know it looks good on you. For example, I am not a fan of dusty rose as a colour. But everyone told me that because of my hair and skin, they loved the colour on me. So for our Let's Get It On routine, I trusted the feedback and took the risk.
Since many events have a black backdrop, going with all-black is always risky, because from the spectator and video perspective, you might just look like floating heads! If you have to use black on black, try to choose a textured black instead or add some contrasting details.
If you are considering a skin-tone, keep in mind it could make your skin look "washed out". Also consider the option of using self-tanner, which will change your colour-match.
White is a bit trickier, because you have to account for transparency. My Rolling in the Deep costume is made of a thicker-than-normal fabric for this exact reason.
Neons are fun and on-trend, but if the design isn't classy, they risk making adults look either too juvenile or too sporty. Use your own discretion.
Custom Caveats
We have had the luxury of having our seamstress, Myles' mom, Mickey Munroe as a neighbour, which makes it super easy to do fittings and explain in person exactly what I envision. However, if you plan on hiring someone to do custom work, it's a challenge to find the right costumer and it takes time to develop a rapport and understanding.
Give yourself lots of lead time: like construction, projects often take longer than the estimate. Be as specific as you can with your design, explaining your vision of how you would like to look in your costume. Submit a thorough set of measurements. Explain what you need to do in the costume; how you need to move. Costumers need to know that you want the pants hemline to be longer than standard because of your heel height. (here's a good guideline: long enough so that the pants graze the floor when you are standing still in your shoes.)
Fabrics
If you are having a costume made, be careful not to fall in love with a fabric that has no stretch. I made this mistake in our 2004 Wild Night routine: I wanted a beautiful rich yellow satin sewn onto a base of a spandex bodysuit. But regular satin doesn't stretch, and as a result the seamstress's job was almost impossible and the final product only acceptable from a distance. (This was also the year I realized yellow did not look good on me, and that I needed to jump on the self-tanner bandwagon)
If you are unsure, tell the fabric store staff what you are trying to create so they can advise you. Spandex/lycra is ideal for dancing or at least something with 4-way stretch, but be careful not to wrap your roly-poly parts in fitted spandex: it will give a sausage effect.
For men, it's easy to purchase a colourful shirt off the rack, but consider the stiffness of the material and the potential colour change when sweating.
Bling
Don't buy rhinestones from a craft store! They are WAY cheaper to buy in bulk online. I use Rhinestone Guy but rhinestone artist Anya Crane prefers Dreamtime Creations. Pro tip: if you're budget-conscious, it's ok to buy the Czech rhinestones, as they are not that noticeably different from the Swarovski ones.
Flat-back glued rhinestones take at least 24 hours to cure, so be sure to plan ahead and don't leave your stoning until the last minute when you are busy cramming in practices! Pro tip: use a wax applicator, not tweezers – it's 10x faster.
Sequins seem like a cheaper and easier option, but they involve strategy – if not done correctly, they risk looking cheap or like a children's jazz show. Also beware that sequins are very rough to the touch, sometimes slicing exposed skin.
Other decor
Appliques are embroidered patches you can sew on that may already have beads and stones attached. These are very common to see in bridal and ballgowns, and may serve to add a little bling to a costume that is on the romantic side.
Beaded fringe: avoid!!! Looks fabulous, but is disasterously fragile! One Tina Turner shimmy and you will be raining rhinestones that you and others will later trip on.
Hand painting: This is super -risky. Painting on fabric is VERY hard to make look good, and should be left to a professional. Like a tattoo, never trust an artist whose artwork you have never seen.
Engineering
Any performing artist will tell you that what you see on the outside is not the whole story! There is a myriad of tricks to keeping things in place. If you do lifts, you should have stirrups to keep your pantlegs down as you go airborne. Think realistically about your fasteners and test them in a realistic practice! No, tape is not enough. Zippers need top-hooks, bras need velcro backup, and loose bits and buttons need snaps. Men, consider sewing elastic loops in your vest that attach to buttons on the inside of your waistband.
Underlayer
The trick for men is to wear a wicking layer such as UnderArmour underneath the costume shirt.
Prevent a shirt from untucking by sewing it directly to a pair of (tight) underwear.
No pantylines! Use Spanx or thong underwear to avoid them.
Avoid visible beige bras!!! There are so many great options for bras these days there is really no excuse not to have a matching or hide-able bra. Get a proper bra fitting at a lingerie store so you get one that doesn't gape when you hunch forward and doesn't dig into your back and sides.
Stick-on bras sound like a great idea, and I am always tempted to use them but never do, because when I consider my choreography, I know they wouldn't last through the first minute – they would be on the floor like raw chicken breasts that escaped the kitchen.
Socks: Men: no short socks!!! They disrupt the leg line, and look too sporty for your dress pants. Women: think very hard before deciding to wear socks inside sandals – it's hard to make this look good.
Costume Care
When flying, never pack your costume in a checked bag!
Stain remover and Febreeze work best for cleaning.
Don't put on your shirt until right before you dance so you don't sweat in it.
Consider investing in a travel steamer instead of ironing delicate fabrics and stones.
Check your stitching before every comp. Keep a needle and your colour of thread in your suitcase just in case.
Further Reading
Be sure never to miss an article! "Like" our Facebook page, or select "Get Notifications" or "See First" from this button on my Facebook profile cover image: