Shoe Review 2019 edition: WCS Footwear Trends Dissected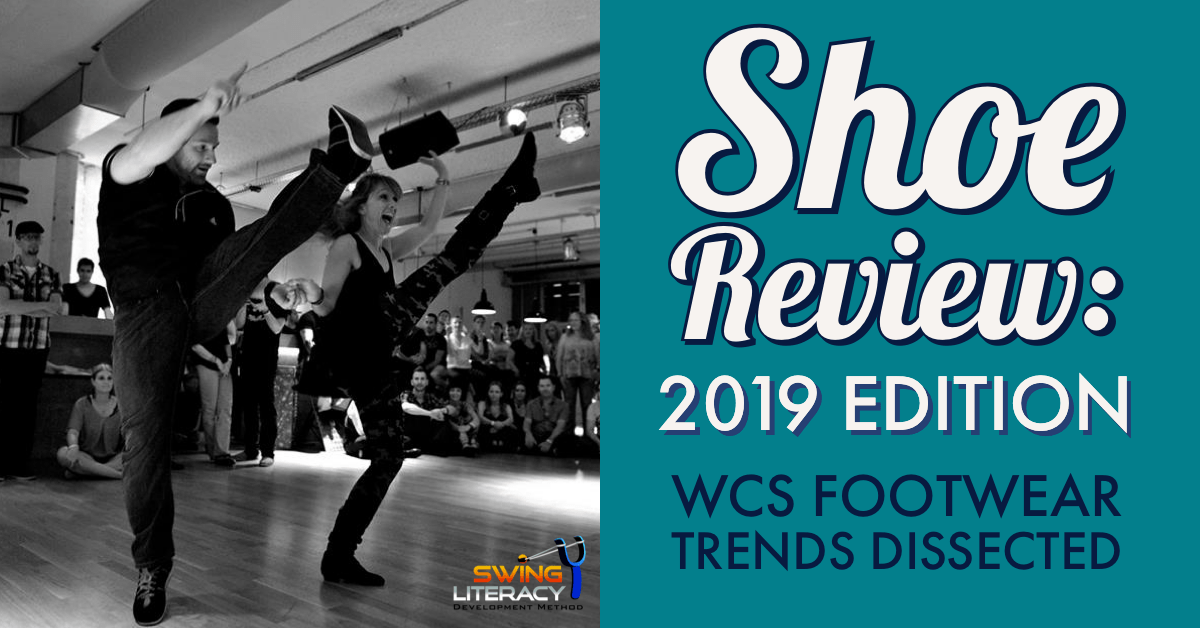 Fashion, just as West Coast Swing itself, evolves as trends change and new technology becomes available. This is one of my most popular articles, with some new additions!
In effect, any shoe can be a dance shoe with a somewhat flexible sole and suede on the bottom. Some people take their favourite shoes to a shoe repair store to get them "sueded", but I prefer to DIY with some scraps from the leather warehouse and some E-6000 glue. I was recently referred to www.soles2dance.com where you can order suede sheets with the adhesive already applied: simply trim to your own shoe. Apparently the adhesive is awesome and never peels. I'm giving it a try.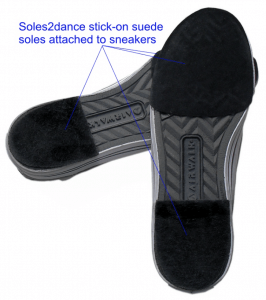 But let's talk about the common styles of actual dance shoes available: pros and cons, fitting and fashion considerations, and judges' recommendations. There are many companies out there you can Google yourself, but the ones I feature here are those owned by dancers in the WCS community.
About heel height
West Coast Swing is a very natural, ergonomic dance. It really is close to stylized walking. Which means that the heel height you would wear in your street shoes on a daily (as in, all day long) basis is most ideal. Anything higher than 1.5 inches or 4 cm, and you're going to have issues stepping functionally, both forward and backward.  Shoes that have a heel higher than that need to have a longer shank to stabilize it, which restricts the flexibility of the arch and prevents you from extending the foot for pointing or rolling. 
At the same time, flat shoes have their disadvantages – since most people spend their days in shoes that have a slightly elevated heel, when they put flats on, they tend to reach or overextending their heel towards the floor on each forward step, which gives them an almost comical hyperflexed toe. Small shanks can be hazardous too though, for the average person who has not developed the muscular strength in the feet to provide stability. While foot rolling and walking heel-first comes naturally to humans, most people don't know how to brush and extend the foot while walking unless trained to do so in a classical dance class.
Take home messages: Dancing in flats is technically harder to fake, so training is required. Dance footwear is equipment, not a fashion statement!
A note on Gender:
I have categorized these shoes for the masses, but technically all of these shoes are unisex, depending on available sizes. I have seen some fantastic male dancers rocking boots, and some badass female dancers wearing Jordans. Hey, whatever floats your boat, baybee.
---
Unisex Shoes
Toms and Converse

(Yellow light: avoid for formal competition)
The colours and patterns help a little, but Toms look like a cross between a kung-fu slipper and a loafer. Would you wear either of those with your dress pants out in the world? There are several "dressier" versions of Toms and Converse, such as leather or glitter, that are easier to coordinate with dress pants for a more formal look. I have even seen grooms outfit their groomsmen in matching colour Converse "Chuck Taylors".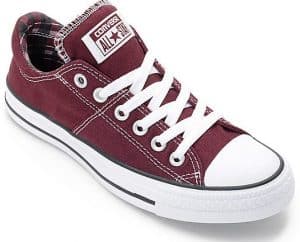 Be selective about the style you choose and pay attention to when they start to look worn and dirty. Toms (or their look-alikes) are comfy to wear all day in workshops and they are light and easy to pack multiple pairs to match different outfits.
The main reason most judges don't prefer them for both genders is because the flat sole makes it impossible to point your toes properly, so unless you have amazing ankle articulation, it encourages you to walk flat-footed or even worse, hyperflex the ankle in order to reach the heel to the ground while walking forward. As a judge, I keep an open mind – I honestly give Toms-wearing competitors a chance to prove me wrong, but 90% of the time their feet look so bad compared to the rest of their dancing, it ruins the whole picture. Check out this website for the dancer's sueded version: www.swaydshoes.com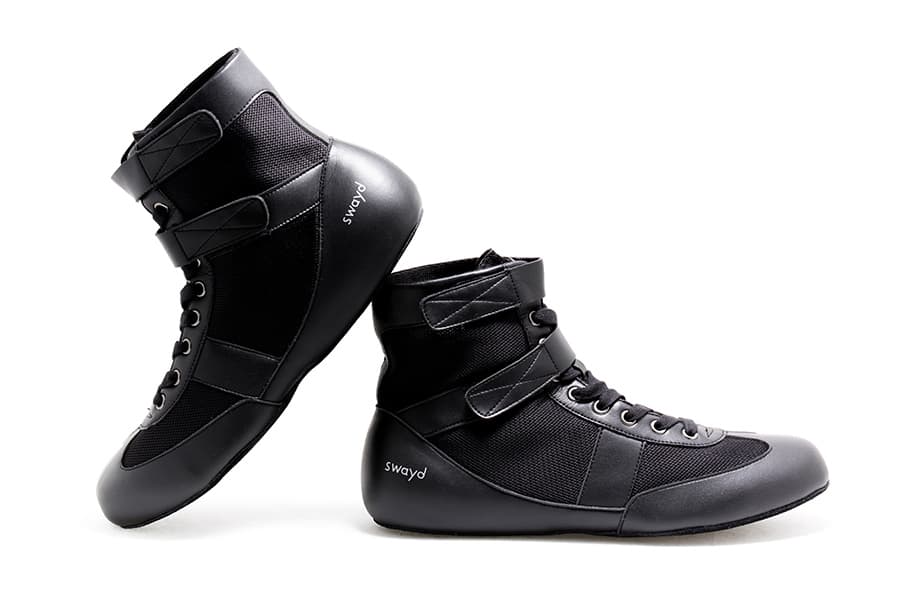 Lorenzo Hi Top Sneakers
(Yellow light)
This light unisex shoe is a hybrid between a sneaker and a boot. It is quite low profile and slim on the foot, which means it reveals every foot articulation (as well as lazy footwork). When I was looking for boots for our 2017-2018 routine, I decided against these because I was looking for a more substantial sole edge and wider ankle. You can get these at swaydshoes.com.
Fashion Consideration: Could be worn with joggers or under straight leg dress pants.
Fitting consideration: I have not tried these so have no comment.
Jazz Runners
(Red Light)
These clunkers are comfy for practice and workshops, but downgrade every outfit and make your lines look like you are wearing ski boots.
---
Women's Shoes
Sandals 
(Green Light)
This is the typical ladies' Westie shoe. It comes in a variety of strap styles, and colours, all of which are fine as long as they coordinate with your outfit: No "Dororthy" red sparkle sandals when you are wearing muted blue florals!  Rhinestoned shoes are enjoying a comeback, and dancer Anya Crane has made a nice little business out of customizing them for you. 
Fitting consideration: Dance shoes are supposed to fit tight. Your big toe should line up with the front edge of the shoe. Most of the straps should be in contact with your skin. The top strap goes around your foot, not your ankle.
Fashion consideration: Beige sandals go with everything, and black sandals go with everything but light colour pants. Make sure you hem your pants so that the pant leg reaches the floor while you are standing still, that way the pants won't look too short as soon as you bend to triple.
Alternative Sandals
(Green light)
At long last, Champion dancer Tatiana Mollmann finally released her first shoe design, the Gladiator, which is a leather lace-up sandal with a low heel. These are light, easy to pack, and took no time at all to break in. I use them for my current Showcase routine.
Fitting consideration: You can adjust them as your feet swell throughout the weekend! They fit quite large, so aim to order at least a full size smaller than your usual size.
Fashion Consideration: These look good with everything – leggings, pants, dresses, and shorts.
Boots
(Yellow Light: requires technical training)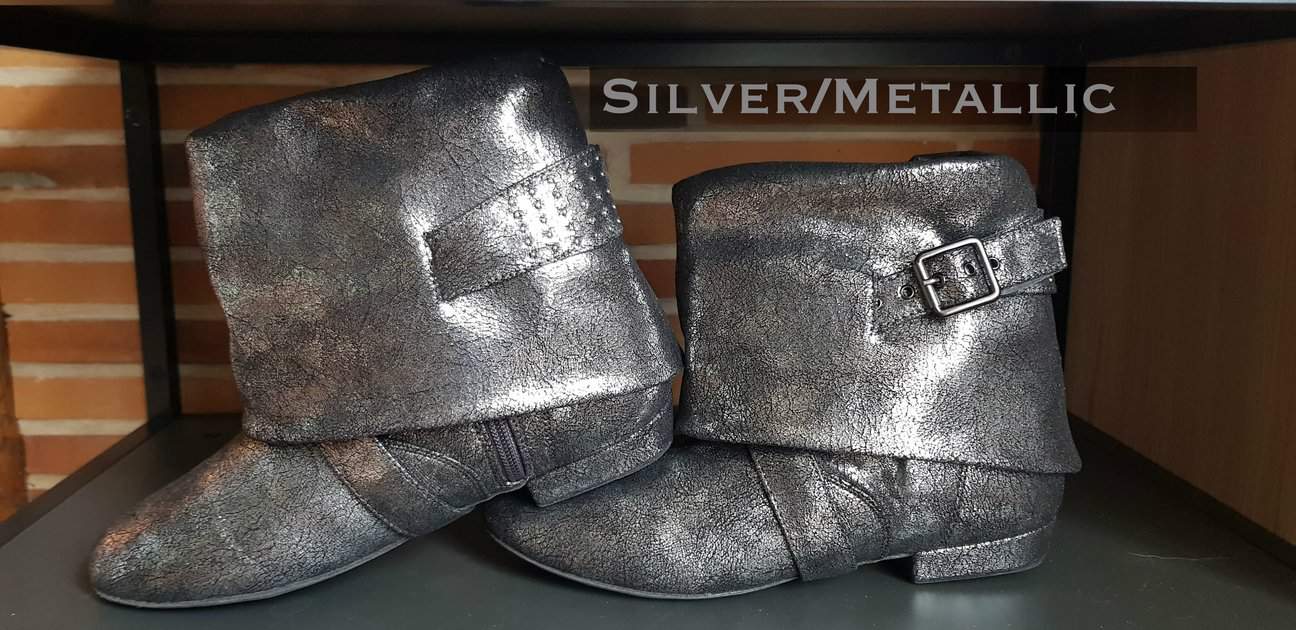 Boots are super popular in fashion right now, and look a lot better with skinny jeans/leggings than sandals or Toms do. You need to be able to extend and flex your ankle and point your toe as much as possible, so the thinner the sole and smaller the shank, the better.
Fortunately, fellow dancers have created and sourced boots for dancers, by dancers, in a variety of colours, heights, and heels! A few Champion dancers have designed their own custom style which is now named after them. Check out these websites to find a distributor near you: Marine Lauren shoes (pictured above), Shoes by Stephane, and DanceWear Europe, and SwaydShoes.
All of this ankle and foot freedom means you need to learn how to work your feet a lot more than you would in sandals. Over the last few years we've been teaching a lot of private lessons on how to work your boots. We see many followers who are so used to their heel arriving on the floor so much earlier in sandals, they have developed a bad habit of "reaching" or overextending their heel towards the floor on each forward step, which gives them an almost comical hyperflexed elf-ish toe.

Fitting consideration: Boots should fit snug, and feel like a sock. Wear thin socks in them. They will stretch out slowly over time (Sway'd brand is pretty stable), so if they ever get too loose you can wear a thicker sock.
Fashion Consideration: Boots are the best choice to wear with leggings and skinny pants. Other pants will work as long as they can be tucked into the boot.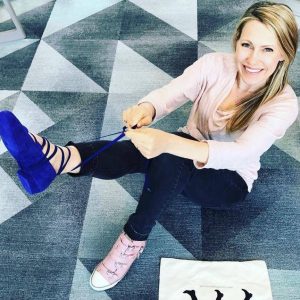 New! Ballet-flat style Dance Shoes
(Yellow light, only because I haven't tried them yet!)
Champion dancer Kellese Key just released her signature shoe design with DanceWear Europe. These are a cute hybrid that offer the comfort of Toms and Boots, but with the lower-profile feminine look of a a ballet-flat, which are likely to look better with jogger-style dress pants, wide leg pants, and shorts. Caveat: wearing Champion brand shoes does not excuse you from training for good technique worthy of the brand!
Practice Latins
(Yellow Light: excusable)
These are rare to find these days, because most ladies gave them up for the much prettier sandal style. I understand they are more comfortable for some women. As a judge, I wouldn't mark you down for wearing them, but they will affect your total appearance so your footwork had better be reasonable! Besides, we are getting more used to this look again thanks to hipster fashion trends.
Fashion and fitting consideration: See "Sandals". The image featured is only one example of several styles available.
Fashion Ballet Flats
(Red Light)
These will get you started for your first class, or until you can afford real dance shoes. After that, you *need* a softer sole that will stay on to be able to roll your feet.
High heels 
(Red light)
These are only useful for tango/ballroom/salsa, but not for WCS due to the foot rolling technique we need to use. Yes they're pretty, but they will severely restrict your ability to learn and exhibit the character of modern WCS. The higher heel causes your weight to shift too far forward over the forefoot, which will put more stress on the balls of the feet and the calf muscles. Besides often leading to fatigue and injury, this position restricts your ability to transfer weight gradually and completely when rolling the feet. Anchor and stretch are severely restricted, which is not a problem for Latin dancers, but is a critical factor in WCS.
 .
---
Men's Shoes 
Men have a distinct fashion advantage over the women when it comes to shoes. I suppose it makes up for women's clothing advantage! Sure, women have choice of colours and straps, but there's simply a lot more variety of footwear that is acceptable for men to wear WCS than women.
NEW! BSoul loafers by Brennar Goree
(Green Light)
Champion dancer Brennar Goree just released his premiere line of loafers designed for Shag dancing, but stylish enough to coordinate with dress or casual wear. The upper is super-soft, supple leather, and the sole is leather, not suede, which is ideal for sliding & gliding and dancing on variable floor surfaces. They come in navy, black, tan, and bright red. www.bsoulloafers.com 
Fitting consideration: They have an easy exchange policy for online orders
Fashion consideration: Can be worn with or without socks, but not recommended with skinny jeans…

"The Jordans" Dance Sneakers
(Green light)
Champion dancer Jordan Frisbee released his signature hi-top sneaker then followed up with a low-top version. Unlike the fashion version of hi-tops, this super-trendy leather shoe is sueded on the bottom already, and is light and flexible to encourage foot articulation. The hi-top shoe looks best with skinny pants and joggers. Caveat: wearing Champion brand shoes does not excuse you from training for good technique worthy of the brand! Order it via their website.
Low Profile Runners: Converse, Vans etc.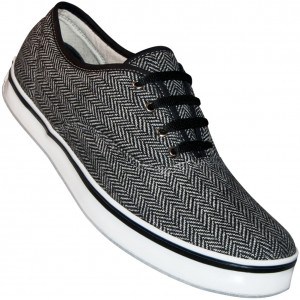 (Yellow Light: depends on the occasion)
Pros: Good for dancing in a casual setting. Can be worn outside the dance floor and pass as regular shoes.  Look for ones with  a more flexible sole than a street sneaker. They have a retro look which can be appealing to match your style. Works to balance out an outfit that is too formal. Make sure they are clean and in good shape, otherwise you just look like a slob. Get them sueded using www.soles2dance.com 
Fitting Consideration: Should fit like a typical street shoe. Often available in wider sizes.
Fashion Consideration: Looks good with jeans for social dancing. One of the few shoes styles, like Toms, that can be worn reasonably well with shorts and short socks.
Hybrids
(Green Light)
A few companies have come up with a marriage of an oxford with a low-profile sneaker, which is a nice compromise of fit and fashion, and they can be worn with pant legs of any width. There are several styles and colours available, but the key factor to look for is a low heel and thin sole. The ones on the left can be found at Swayd Shoes


Standard Ballroom Oxford
(Green Light)
Most men's first pair of dance shoes. Pros: flexible sole, soft leather. Low, wide heel which offers more stability and good weight transfer into the heel. This basic pair is relatively affordable and will be useful for both social dancing and competition.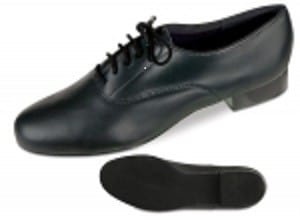 Fitting consideration: Dance shoes should fit tighter than your street shoes. Your toe should almost touch the front of the shoe. If you leave too much space in the toe, the soft leather will permanently curl from repetitive bending every time you roll your foot.
Fashion consideration: Doesn't look good with shorts. Remember to match your socks to your shoes or slacks.
Tango Heel Latins

(Green Light)
An ideal shoe for both competitive WCS and social dancing. It offers the most amount of flexibility while the half-shank offers a little bit of support through the rise. The latin-looking tapered forefoot elongates the leg line. The thin soles offer lots of feedback through the floor. The lower, wider heel offers more stability than the Cuban heel, putting a little bit of weight into the forefoot, but still allows for a more complete roll, particularly for anchoring and rolling into count 1.
Fitting: See Ballroom Oxford.
Fashion: See Ballroom Oxford.
Cuban Heel Latins
(Red Light)
Aesthetically, these shoes offer almost all the same benefits as the Tango heel Latin, but the higher heel causes your weight to shift too far forward over the forefoot, which will put more stress on the balls of the feet and the calf muscles. Besides often leading to fatigue and injury, this position restricts your ability to transfer weight gradually and completely when rolling the feet. Anchor and stretch are severely restricted, which is not a problem for Latin dancers, but is a critical factor in WCS.
Fitting: See Ballroom Oxford.
Fashion: See Ballroom Oxford.
Aris Allens
(Yellow Light)
These are typically vintage shoes, loved by Lindy Hoppers. But not all the styles are recognized as Lindy Hop shoes – only the two-tone shoes tend to look distinctly Lindy. Any of the solid colours just look like a timeless good quality tasteful dress shoe. Aris Allens offer more flexiblity and "feedback through the floor" than a typical men's dress shoe, but slightly less than a ballroom oxford.  They are slick, raw leather soles, as opposed to suede, which is great if you are dancing on slower, stickier floors, but they can be too slippery on a standard WCS competition floor, unless you have well-trained core stability. If you wear white shoes, your footwork better be impeccable, because the colour will draw attention.
Fitting: They have a harder toe box, which means they would have the same fit as your typical dress shoe.
Fashion: See Ballroom Oxford
European Blunt Toes
(Red Light)
These non-dance shoes are popular as a dress shoe, but are quite impractical for dancing. The sole is very rigid and thick, meaning less mobility and feedback through the floor. The square toe box means your toes will be far away from the end of the shoe – this makes it hard to roll through your toes, but very easy to underestimate the length of your foot, catch your toe on the floor, or kick your partner.
Further Reading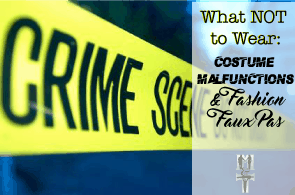 ---
Want more tips and resources?
We send regular articles like this about advice for dancing West Coast Swing, such as:
How to learn faster
Drills you can do to improve
How to handle social dancing challenges
How to take advantage of workshops, events, & privates
Want in?