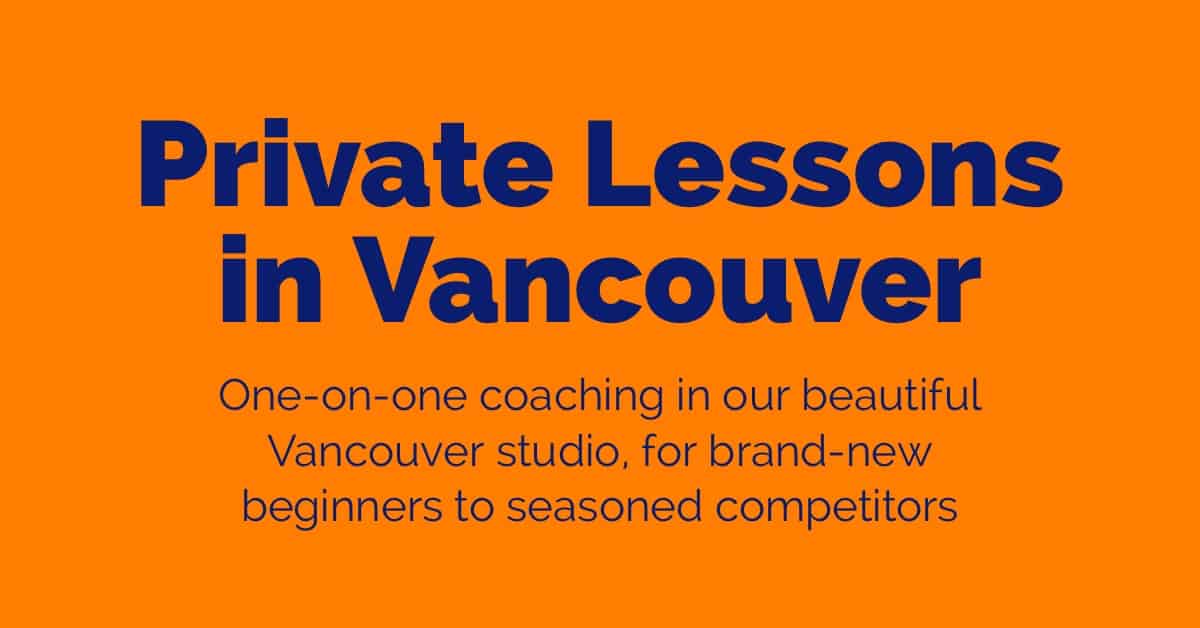 The most efficient mode of learning

Like a personal trainer or a tutor, private lessons are highly recommended for dancers of all levels (even beginners and instructors) who are serious about improving their dancing and want the most value for their money. This one-on-one personal feedback is by far the most effective and efficient method of learning. We give you access to technique and strategies not readily available from most instructors, and help you create new possibilities in your dancing, at your own pace, your own level, and in your own style.
About our teaching style
Our Swing Literacy Development Method is different from the traditional method of teaching dance. It uses a skill development approach, which is common in sport, that we have tailored to WCS. Prepare to hear a whole new perspective. Regardless of the purpose of the lesson, we build skills from the ground up, correcting any foundational issues along the way.  The advice, corrections, and drills we offer are based on years of experimenting to find the most effective methods to teach body mechanics and efficient movement, not based on our opinions.
We often use a Socratic method: rather than spoon-feeding instructions, we use questioning techniques to guide students to develop skills organically, which makes them learn faster and "feel" better. These techniques tend to be more interactive and require more engagement from the student. We put the student at ease by offering encouragement and solutions without artificial ego-stroking: we prefer to get right to the source of the issue so you get full value for your time.
As master teachers with over 40+ years of combined training and experience,
we can assure you – our methods get results.
Teacher Coaching
Coaching for teachers, about teaching WCS.
Purchase your 45-min Teaching Impact Strategy Session:
Private Lesson FAQ's
Absolutely, frequently! There is no minimum skill level required to take a private lesson.
Yes, we are happy to teach a student with their regular teacher present.
Both of us are well-versed at leading and following. If you have a specific preference for followers' styling, see Tessa. Leader's styling, see Myles.
Parking is free, under the Broadway Ballroom building. Come up to the reception desk to get your student pass you need to display on your dashboard.
Dance "smarties" are always welcome and helpful, but not essential.
Ideally, both of us, for safety and accuracy. But if budget is an issue, Myles can coach solo.
You can pay a $50 reactivation fee that gives you 2 months to use your remaining lessons.
Absolutely! Contact us directly to arrange for times outside of our regular availability in order to accommodate your travel dates. Here's a link to the hotel nearest the studio (2 blocks): Park Inn & Suites
Hear from our students:
Pedagogy without parallel

Tessa's pedagogy is without parallel. When she teaches, she doesn't just pelt you with information, she connects new concepts to existing ones, so that it makes a deeper impact, lasts longer in memory, and deepens your overall understanding of the dance.
Be exceptional, not just acceptable

I'm motivated by the fact that a pro once suggested that just because people enjoy dancing with me doesn't mean I'm doing it "right". I mean, a kid can have fun with a toy that doesn't work RIGHT, but said kid would have MORE fun and come back for more if it DOES work right. Currently I'm the toy… I want to be the BEST I can be, both for fun and because I want to do it right! You're an acceptable toy…why not learn to be an exceptional toy?
Becoming more responsive partners

Every lesson is packed with generously supplied information which is put into practice before proceeding to other topics and leaves us with material to work on long after the lesson is over.  From our first lesson on, Myles and Tessa figured out a learning progression that suited us and helped us become more responsive dance partners.
Tackle your goals
Dynamic and deeply knowledgeable instructors, Myles and Tessa deliver private lessons that are productive and fun.  Whether you want to learn a specific move or figure out how to improve your general dancing, they will assess your dancing and teach you specific ways to improve your movement and partnership skills based on clearly explained body mechanics and useful exercises, drills and one-on-one feedback.
Tailored teamwork

"Having had private lessons from both Myles and Tessa, I found the combination of the teachings from these two to be a very inspiring experience. From fundamental technique to very specific movements unique to myself, these two worked together to provide a combination of lessons that have been invaluable. They were able to set me on a path with many tools to work with, tailored to my needs."