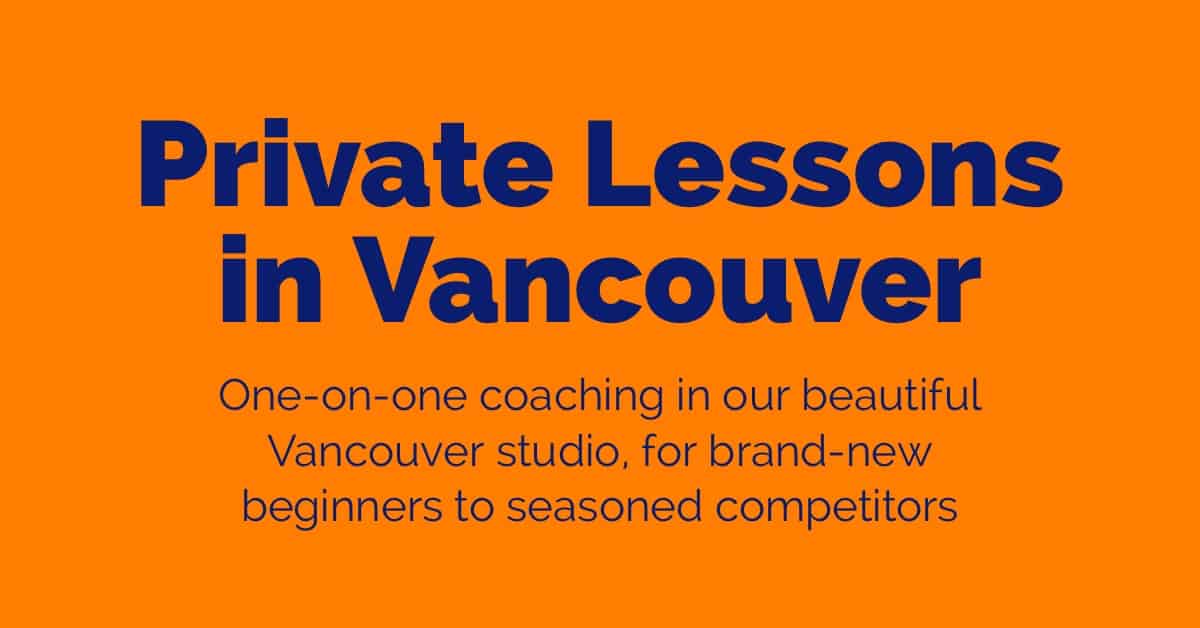 The most efficient mode of learning

Like a personal trainer or a tutor, private lessons are highly recommended for dancers of all levels (even beginners and instructors) who are serious about improving their dancing and want the most value for their money. This one-on-one personal feedback is by far the most effective and efficient method of learning. We give you access to technique and strategies not readily available from most instructors, and help you create new possibilities in your dancing, at your own pace, your own level, and in your own style.
About our teaching style
Our Swing Literacy Development Method is different from the traditional method of teaching dance. It uses a skill development approach, which is common in sport, that we have tailored to WCS. Prepare to hear a whole new perspective. Regardless of the purpose of the lesson, we build skills from the ground up, correcting any foundational issues along the way.  The advice, corrections, and drills we offer are based on years of experimenting to find the most effective methods to teach body mechanics and efficient movement, not based on our opinions.
We often use a Socratic method: rather than spoon-feeding instructions, we use questioning techniques to guide students to develop skills organically, which makes them learn faster and "feel" better. These techniques tend to be more interactive and require more engagement from the student. We put the student at ease by offering encouragement and solutions without artificial ego-stroking: we prefer to get right to the source of the issue so you get full value for your time.
As master teachers with over 40+ years of combined training and experience,
we can assure you – our methods get results.
Teacher Coaching
Coaching for teachers, about teaching WCS.
Purchase your 45-min Teaching Impact Strategy Session:
Private Lesson FAQ's
Absolutely, frequently! There is no minimum skill level required to take a private lesson.
Yes, we are happy to teach a student with their regular teacher present.
Both of us are well-versed at leading and following. If you have a specific preference for followers' styling, see Tessa. Leader's styling, see Myles.
Parking is free, under the Broadway Ballroom building. Come up to the reception desk to get your student pass you need to display on your dashboard.
Dance "smarties" are always welcome and helpful, but not essential.
Ideally, both of us, for safety and accuracy. But if budget is an issue, Myles can coach solo.
You can pay a $50 reactivation fee that gives you 2 months to use your remaining lessons.
Absolutely! Contact us directly to arrange for times outside of our regular availability in order to accommodate your travel dates. Here's a link to the hotel nearest the studio (2 blocks): Park Inn & Suites
Hear from our students:
Diagnosis with solutions

We just wanted to send you a quick thank you note for our private lessons.  Personally, I have been a huge fan of your teaching and it was amazing to have a private lesson with you finally.  I love that you teach concepts and give plenty of examples while properly diagnosing issues and providing effective solutions.  I hope we will be able to work with you again in the future.  Until then, it's practice time!
Michael Lam
Tessa is a magician!

I've watched Tessa as she utterly transformed the dancing of newbie leader in an hour. When she invited me to feel his connection and stretch, my jaw dropped. He felt better than a lot of leaders who have been dancing for years!
Yubin Kim
Tailored teamwork

"Having had private lessons from both Myles and Tessa, I found the combination of the teachings from these two to be a very inspiring experience. From fundamental technique to very specific movements unique to myself, these two worked together to provide a combination of lessons that have been invaluable. They were able to set me on a path with many tools to work with, tailored to my needs."
Deb Zokol
The code to unlock the dance

"I am so grateful for the privates and workshops that have accelerated my dance progress. Myles & Tessa's ability to interpret my learning style and body mechanics, imparted foundations and skills that allow me to feel I can understand what can improve many situations even on-the-fly while dancing. A work in progress, but I'm now more aware when I can improve a move, figure out what is missing, and how to adjust. The bonus is that I can also better follow other instructors in workshops and fill in the blanks if necessary. Looking forward to continued development and enjoyment of musicality, partner communication, boing, and kissing, that turn a good dance into a great experience."
Mike MacNeill
Powerful results

"Life before Myles and Tessa was frustrating!!!  I loved going to dance events, however I was doing poorly in competition, and was not exactly the most popular dancer on the social floor.  After a 2-year streak of rarely making finals in novice, I started taking regular private lessons with Myles & Tessa.  I jumped from Novice to Advanced in just 1 year (6 events)!!
M&T have taken years to analyze this dance and have figured out how to simplify some very complex ideas.  Their Swing Literacy system is brilliant.  I can see many more "Tessons" and "Mylestones" in my future."
Jen Malcolm