The SLDM Teaching Practicum module is exclusively for trainees who have completed the Theory Module. Trainees have up to one year to complete a variety of assignments that require active teaching. The Practicum includes ongoing coaching from Myles and Tessa in the form of email feedback and problem solving on teaching topics during the assignments.
All qualified teachers in the public school system are required to do a practicum in order to teach. Why? Because research shows that you can't learn to teach by reading about it. You need to practice, reflect, receive feedback, and revise. This feedback loop is exactly what the Teaching Practicum module is for.
After completing the Teaching Practicum, teachers are fully certified in the Swing Literacy Development Method, will receive a certificate, and may list this designation next to their names on promotional material.
Here is a brief summary of the Practicum activities. Trainees can complete their choice of assignments, in any order, at their own pace. Each assignment is worth 1 or 2 credits. You need 8 credits total to "graduate".
Planning
Series Plan and 3 Lesson Plans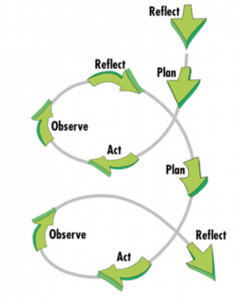 Teaching Experiences
Self-Evaluations & Video Analysis
Observations
Reports on 4 different instructors' classes
Community Involvement
Report on your leadership activities
Case Studies
Hypothetical problem-solving activities
The Teachers' Lab
see below
This is a 2-4 hour LIVE session offered at select events, which can be integrated into a Swing Literacy Intensive. Trainees who have completed the Theory Module can participate in any Teachers' Lab, at any time. We do not advise delaying registering for the Theory Module because you are "waiting for a Teachers' Lab to be offered in your area" – that's not the way the program works. While it is considered to be one of the Practicum activities, there is a separate fee for this session. Read all the details here.
SaveSave
SaveSave
SaveSave
SaveSave
SaveSave
SaveSave