Westie Wisdom 2015 Year-in-Review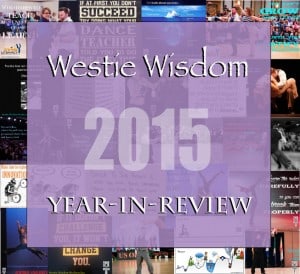 The complete 2015 Westie Wisdom collection!
I've always been a collector of motivational quotes. Westie Wisdom Wednesdays was originally intended to populate the newly introduced WCS Rising Star Support Network on Facebook, which was created to propagate, support, and motivate the Rising Star movement. But why should Rising Stars have all the fun?
Some of the images are native to the quote source, and some require forgiveness of my very novice attempts at using Illustrator and image editing apps. Regardless, each quote speaks volumes.
Rest assured, as you can see by this article's header image, Santa brought me Illustrator lessons for Xmas, and I look forward to playing with my new toy in 2016!