What Dancers Need to Know About Facebook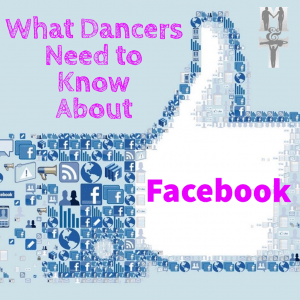 West Coast Swing lives online, and if you don't know how to operate your social media tools, you risk missing opportunities or being left out of the loop entirely. Even if you are savvy with Facebook, you may not realize how some of the features are restricting you if you don't take control of them. I'd like to share some need-to-know tips for social dancers, teachers, and event promoters.
I am not a social media professional. I have learned to navigate the landscape of these relatively new technologies through trial and error, and have gotten pretty competent at using them as tools for education, promotion, and dance community building. I realize that many of you are Facebook-savvy and don't need to know the basic features, so after explaining how each feature works, I highlighted the more advanced implications and actionable tips in orange.
Email is unreliable
Well, not entirely. But have you looked at your Spam folder of your inbox lately? Probably not. The problem is that many people now have either automatic or custom spam filters that tend to block many emails that appear to be broadcast or promotional. Which means that those Swing Club event announcements and private lesson discount offers you may actually be interested in getting are getting rejected before you even get to see them. What this means to dancers: check your spam folder occasionally, and try to change your settings to allow your desirable senders' promotions to get labeled as "safe" and directed to to your primary inbox. What this means for promoters: email is no longer a reliable way to reach your customers. You have to diversify.
The Westie World lives on Facebook
It's hard to avoid it now! It's where we can promote all the dance events, thank our partners for awesome dances, post videos that inspire us and that we are proud of, and share photos of our dance moments. Even if you have a very busy lifestyle or are not interested in getting absorbed by Facebook, you need to at least have an account and check it occasionally, because this is how the Westie world will connect with you. That way, when you are curious about what's going on, you have a custom-built resource that you can plug into. There are so many ways to customize your settings to tailor what kind of content you see and who can see your content, there really is no excuse not to have a Facebook account. Need help? Ask a FB-savvy friend to set you up and show you what you need.
Purposes
People use FB for different reasons, and everyone is free to choose what they share and who they share it with. You might have friends who post nothing but pics of their cats, travel, or food. You might also have some political enthusiasts who use it as a platform to voice their opinions. You might also have some who share deeply, using it to connect meaningfully with friends from afar.  Or some like me that use FB exclusively as a means to promote dance – education, events, social parties, etc. Bottom line is, everyone uses FB differently,  so don't expect everyone to treat it like you do.  There are, however, some extreme ends of the spectrum to be avoided, which I will get into later.
'Friends'

'Friends' are people you are linked to on Facebook.  When someone sends you a friend request,  it doesn't have any meaning attached- they simply want to follow your activities because they are interested in what you do. When you accept their request, they will be able to see your profile page content,  which you can control and curate. You can also see theirs. It is common for dancers to have a lot more FB friends than the average non-dancer, because we meet so many people while social dancing and traveling. Facebook limits the number of friends you are allowed to 5,000. This causes a problem for pros and celebrities who get friend requests from thousands of fans. For example,  I have passed my limit of friends, so now when dancers "friend" me,  it appears as though I am not accepting their request, but in fact, I am not physically able to accept it.  Facebook automatically turns these people into 'followers': they subscribe to my newsfeed,  but I don't subscribe to theirs. More on Pages later.
Profile
Your profile is like your "all about me"  page. It can be as evasive, mysterious, or revealing as you choose. It contains your public wall, where people can post messages like a bulletin board,  aimed at you but visible to others. You need to curate this wall,  to make sure that people are posting content that you are OK with. If they're not, you can either ask them directly not to post that material on your wall or you can set it so all wall posts must be approved by you before going public.
Posting
When you have something to share, whether it's your own written thoughts/photolink, or someone else's, you make it public by entering in your status field, found near the top of your profile page, under your cover photo (see image above). For example, if you wanted to announce that you finally made it out of Novice, you could post a photo of your trophy and a thank you to your partner (read about Tagging below), and it would show up on your profile page. People who go to your profile page would be able to see it,  but it will also join the mass randomized newsfeed that is seen by your "friends". You can change your privacy settings so that only certain people are able to see certain posts.  Piece of advice: most people dislike seeing religious or political posts in their newsfeed, so use your discretion. It is possible set it so certain posts are only visible to certain friends, so, for example, your parents don't have to see your dirty jokes. 🙂
Newsfeed
This is a real-time continuum of your friend's posts. Facebook only shows you things it thinks you are interested in, so the people you interact with the most get more airtime on your newsfeed. But again, you can change the settings to limit what you see, from whom,  and how often. I like to scroll through several dozen posts when I wake up then again in the evening. It helps to pass time and also to keep abreast of what's going on in my community and with my friends. This is often where you will catch juicy articles like this one, dance event announcements,  and local class and dance party information.
Messages
There is a messenging service inside Facebook called Messenger. I like it for a few reasons: 1. I can send someone a message without needing to know their email or phone number. 2. It's instantaneous- no waiting to see if my email went through. Like texting, I use it to have typed dialogue conversations,  as opposed to long letters. I still prefer to conduct business via email so I have a more searchable record of communication. Not everyone is aware that you can actually phone people via Messenger, for free, anywhere in the world. It is sometimes useful to use the "group message" feature, which is like a conference call for messages. This is good for communicating with a couple, or with a team of volunteers you are working with.
Groups
If you belong to a social gathering in real life,  chances are they have a facebook group page associated with it.  Many social groups use Facebook now instead of email broadcasts, newsletters, or bulletin boards.  You need to actively search out your favourite groups and click the 'join'  button in order to receive their announcements regularly.  You'll want to search for all the WCS groups in your area : studios, local dances,  or community groups.
Sometimes there are groups that are more global than local, such as:
Your Take-Home Message:
-Get on Facebook
-Check your Messages and Notifications regularly (more than once a week)
-Be sure to "Like" and "Share" liberally!
-Join Groups to stay in the loop
-Don't give up: ask for help to customize your privacy settings
-Follow the social norms
In order to learn more about these features and more, please do not message me. Your best bet (besides asking a friend to show you live) is to search on You Tube. Just type in the phrase, "How to use Facebook ______" and fill in the blank with any of the headings in this article.