How can we learn and teach West Coast Swing better?
We need something more than one more philosophy of how to dance WCS. This game-changing method and innovative curriculum makes a profound difference in how you teach how to learn to dance, so you and your students learn faster, regardless of your chosen style or philosophy. 
What's missing from my West Coast Swing development?

How to Learn
You learned to dance, but are you sure you learned how to LEARN how to dance? If we used the same learning strategies you use in other skills like sports, reading, and music, it would be so much easier.  It's not too late to learn how to learn, so you can learn more efficiently and effectively any style you choose.

Fundamentals, not basics
There is a whole world of skills that are more basic than basic patterns. They are called Fundamental Movement Skills, and while they are the essential core of every sport and physical activity, they are the most neglected and underestimated part of learning West Coast Swing.


Progressive skill development
You have collected an assortment of advice and tips from various instructors, but they are disassociated and sometimes conflict! Get the big picture, find out how all the pieces of the puzzle fit together, do some renovations, and start to reconstruct your dance to move forward.

Real technique, from day one
Traditional methods skip over technique in favour of patterns and footwork. Students need to start building authentic technique right from their first day. Students who are empowered with technique early on learn to value it over patterns and are better equipped to add skills and style later on.
Ever wish there was a clear curriculum for WCS?
Introducing:

the Swing Literacy Development Method (SLDM)

Comprehensive training system
Way beyond a workshop, each SLDM program is comparable to a university course with extensive interactive online coursework, assignments, and practical application projects.

Globally proven method
Based on the Canadian National Coaching Certification Program, following globally proven standards to develop both recreational and competitive athletes effectively and efficiently.

The power of a skill development approach
It's not what you learn, it's how and when. This method prioritizes skill learning and puts patterns in their place, while keeping students hooked and progressing faster.

The foundation behind all styles
Instead of promoting any one particular WCS style, the SLDM goes way beyond the debatable steps and style of the dance to teach the common (yet neglected) fundamentals behind all styles.

Raising Swing-literate dancers
Under the SLDM, dancers learn authentic skills rather than imitating rote patterns. This deep learning gives them access to more flexibility, adaptability, and faster progress, which leads to more fun.

Beyond the business
Backed by education training, kinesiology, and coaching science, the SLDM tackles the big subjects of pedagogy (science of teaching), biomechanics, and skill development in an accessible way.
How can the SLDM help my dancing?
Get a deeper understanding of the fundamentals and assess your own
Fill in the gaps in your foundation skills
Unlock movements and patterns that have been challenging you
Become a safer, more desireable partner:
Enjoy competitive progress and increased social dance popularity
Breakthrough plateaus in your dance progress
Renovate and upgrade your dance skillset
Move more ergonomically and efficiently, with less pain and effort
Understand why you have trouble learning certain things
Give structure and organization to the assortment of advice you have collected
Provide a progressive training vehicle you can build on: Get a taste in the live Swing Literacy Intensive
How can the SLDM help my teaching?
New Teachers

Experienced Teachers

Learn the absolute best way to teach Beginners no matter which style you prefer
Be confident that you are providing students with high quality content
Give your students a better, faster learning experience than you had
Learn to assess and analyze students and other teachers
Learn teaching skills (pedagogy) that go way beyond class management
Acquire dance business skills such as feedback, risk management, and marketing
Learn how to design lesson plans and series plans for 1-month to 1-year
Get organized, comprehensive, reliable plans to duplicate and customize
Get personal coaching on your teaching – you'll never be guessing in the dark!

Renovate and upgrade your teaching practice with the latest technology
Diversify your toolset with a powerful resource
Learn how to teach technique without boring the students
Help your students and your community grow stronger, faster
Tap into proven pedagogical techniques
Give structure to the assortment of advice and techniques you have collected
Retain more students because they "get it" quicker
Make your teaching services more in demand, increasing your revenue
Get personal coaching to guide you on how to apply the method
Which program is for me?
Choose from 3 different teacher training certification programs, (Grades 1-3) and a Dancer Development Certification. The Dancer Development Program and the Professional Development Program will be launched in early 2018. Learn more about the Teacher Education Program below.
Swing
Literacy Intensive
Live, open workshop at select events. Can be done anytime.
Theory
Module
Online coursework tailored for each program.
Teaching Practicum
Online coaching over the course of 1 year. Interactive custom projects designed to assist in applying the SLDM in real teaching.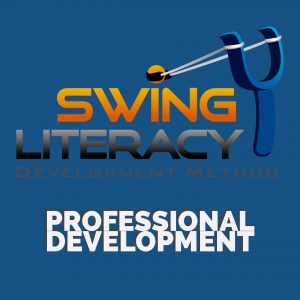 AllStar and Champion dancers with significant teaching experience
SLDM Grade 3 Certification

16 credits required
Designed for
experienced professionals
6 Units online, with assignments
8 credits
Choice of projects tailored to individual needs
Pre-requisite: Theory Module for Teachers
8 credits
.
Master Instructor Trainers
Canadian Champions Myles Munroe and Tessa Cunningham Munroe have over 40 years of teaching/coaching experience between them in a diversified portfolio of arts and sports. Tessa is also a National Development coach and coach trainer, and a practicing school teacher with degrees in both Kinesiology and Education. By collaborating with Myles' extensive and diverse classical dance training and World Championship titles, they have created the most comprehensive teacher training program in the West Coast Swing world. See a complete Bio
Get a taste
See for yourself how the SLDM works before you commit:
Take advantage of professional feedback on your teaching: M&T silently observe your class and prepare feedback notes then deliver them to you live afterwards.
Wondering if your series plan and content are on the right track? Request a syllabus review and M&T will provide email feedback you can use to make it even better.
The rite of passage for every dancer, this live workshop offered at select events is a game changer. It turns your WCS upsaide down, shit a bit, then reassembles it in a more effective structure.

New students consistently achieve competence exponentially faster than the average new learner.

Beginner classes who learned the Swing Literacy method execute more fluid, ergonomic, consistent basics by the end of their first series than their Intermediate class peers who learned the traditional way.

Experienced students have flourished, making more progress in one handful of privates than they did in years of group and private lessons.

Graduates report regularly that their new SLDM skills have completely transformed their teaching practice, revolutionized their dance school business, and most importantly, have produced happier, less frustrated students. Read what people are saying
SaveSave
SaveSave
SaveSave
SaveSave