Tessa is a BC Certified Teacher, and works as a Teacher-on-Call in Coquitlam School District, #43. We created the Swing in Schools inreach program for two reasons: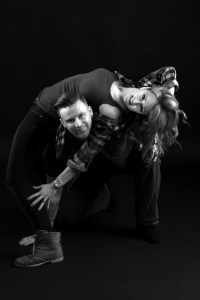 To rescue PE teachers who are uncomfortable teaching dance and who want to provide their students with a more meaningful and practical skill than the Square Dancing they did in school.
To promote Swing dancing in general and West Coast Swing in particular, to the Arts community and to the youngest generation.
Being the youngest and most accredited partner dance instructors in Vancouver, Myles and Tessa have the unique key combination of:
The education and training for the BC school system
Superior class management skills
Being able to relate to the students
Being top professionals in their field
The Swing in Schools inreach program is customizable to the needs of the school and the individual teachers and students. It includes followup exercises for in the classroom as well as evaluation suggestions and tools. A variety of dance styles are available. In addition to teaching in the classroom, Myles and Tessa are also available for performances as part of a larger assembly, school dance, or concert.
Here are a few schools who have taken advantage of this program:
Prince George Secondary
College Heights Secondary
Maple Creek Middle
Hillcrest Middle
Carson Graham Sec. Dance
Southlands Elementary
Eric Hamber Secondary P.E.
Eric Hamber Secondary Dance
Fleetwood Park Secondary
Burnaby Central Secondary
Magee Secondary
Langley Secondary Musical Theatre
Contact us directly to design your customized Swing in Schools project.